The Benefits of Massage...
Although a single massage will be enjoyable, the effects of massage are cumulative and a course of massage treatments will bring the most benefits. Regular massage can have the effect of strengthening and toning the entire body, and help to prevent unnecessary strains and injuries that might otherwise occur due to excess tension and any resulting structural weaknesses.
Massage is generally considered part of complementary and alternative medicine. It's increasingly being offered along with standard treatment for a wide range of medical conditions and situations.
Get the pulling motions and inversions missing in mat-based classes.  A yoga practice or exercise routine that integrates The Yoga Trapeze, even if just once or twice per week, includes pushing, pulling, holding, twists, backbends, forward bends, hip opening and so much more. You can work your shoulders, calm your nerves, and leave class floating on air.  We love all styles of yoga, but YOGABODY students tend to be results-oriented.
For students with back pain, poor flexibility, weak core muscles, and little to no grip strength (all very common issues), the Yoga Trapeze offers a way for them to experience remarkable transformation. Inversions have never been more popular, but most students can't perform even a simple headstand, so they skip these poses and miss both the health benefits as well as the fun of going upside down.  All levels are welcome.
Flexibility can be worked on at any age.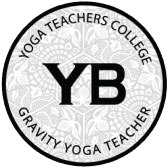 This is a mat-based class using timed passive holds and breathing techniques to achieve flexibility and mobility goals.
Bring a strap and blocks to provide proper support in these poses. You do NOT need to be an established yogi to benefit. If you are sitting for long periods whether it be for travel or work, if you know you have limited hip or low back range of motion, if you want to sit deeper in your squat or want less aches and pains then this class is for you.
Emmy has been a World Instructor Training Schools W.I.T.S. personal trainer since 2004, a Board certified massage therapist since 2005, and a reflexologist since 2006.
She has trainings and actively practices modalities including deep tissue, Swedish, trigger point, prenatal, hot stone, Massage Envy's Total Body Stretch, kinesiology taping, and percussion using Hyperice's Hypervolt for rapid tension relief.
In 2019 she completed her certification to teach YOGABODY's yoga trapeze and a year later gravity yoga to further promote health, strength, balance, flexibility, and inversion. 
Massage Envy Spa
Landstown Commons
3352 Princess Anne Rd, Suite 915
Virginia Beach, VA 23456
757.689.4959
Exfoliating foot treatment
Help soothe and refresh tired feet with an exfoliating sugar scrub and moisturizing body butter. Kick back and relax with feet that feel softer and smoother.
Exfoliating hand treatment
Help soothe and rejuvenate the skin on your hands with an exfoliating hand treatment composed of sugar scrub and body butter. Get your hands feeling softer and more refreshed.
Rapid Tension Relief
Target specific muscle areas by adding Rapid Tension Relief to your massage. Your therapist uses a state-of-the-art massage device that employs percussion technology to help ease muscle tension and relieve minor aches and pains.
Enhanced Muscle Therapy
When coupled with massage, enhanced muscle therapy can help soothe overworked muscles in your hands, arms, legs, feet, back, and neck. Your therapist will employ concentrated warming and cooling therapies to your session to achieve greater relaxation and relief.
Hot Stone Envy
Muscle tension melts away when you add Hot Stone Envy to your 90-minute massage. During your session, your therapist will place hot stones at strategic points. When coupled with massage, hot stone therapy can help relieve minor aches and pain, reduce stress and anxiety, and promote better sleep.
Kinesiology Tape Enhancement
Kinesiology taping applies an elastic fabric strip with an adhesive backing to focused areas of the body. Add this enhancement to any massage or stretch session, which may help reduce discomfort, support an injured part of the body and keep you moving.
CyMe™ Boost
Show your skin some love during your next massage with one or more CyMe Boost. Designed by Massage Envy , each of these skin-enhancing serums can be added to your massage lotion for an extra "boost." Leave your skin feeling healthier, cleaner, or more youthful.
Aromatherapy
Add even more rest and relaxation to your massage with an aromatherapy enhancement. These essential oils extracted from herbs, fruits, and flowers can enhance your physical and emotional wellbeing by soothing the mind, body, and spirit.
Client's give us many great reviews!
I spent a fairly active six years in the US Army, during which I dabbled in the gym (incorrectly, for the most part) as well as the standard running, physical training, and marches with heavy back packs; as a result, I acquired a few injuries.

I've since started to exercise smarter (three times a week on average) but still come up with nagging injuries. I've been having sessions with Emmy since the summer of 2011 and they have gone a LONG way to rehabbing and preventing injuries. She doesn't do "cookie cutter" sessions and is really inquisitive about what is ailing you; she asks a lot of questions before and during the session.

She uses a lot of techniques and the whole experience is very relaxing–as well as educating. I've learned a lot about referred pain from her and apply it to my own foam roller sessions.

Emmy was the first certified massage therapist I went to and I'm glad I did.

If you're nervous about the experience she is definitely the one to go to. As you can see from the other testimonials no matter how active your lifestyle she can accommodate and help you!
I have been getting massages from Emmy since 2010 after an automobile accident and I can truly tell you that she is the best. It was always a pleasure to get a massage each week. She is very professional and her smile will make you relax before she even starts the massage.

At first I wasn't sure if a massage would help me but after a few weeks I could see and feel the difference. My range of motion was much improved and I felt really relaxed. After a stressful day at work an Emmy massage is the way to go. I have recently returned to Emmy because I was stressed and now after four massages I can feel the difference. I will continue to get a massage each week as long as I can.

I HIGHLY recommend Emmy as a massage therapist. Keep up the great work!
Once I turned fifty, I was diagnosed with Meniere's disease and BPPV (benign paroxysmal positional vertigo). Being a very independent woman, I was devastated.

I couldn't handle standard chiropractic adjustments; Emmy was able to find me an atlas orthogonal chiropractor. My treatment felt complete with her nurturing massages. They allow me to feel independent, and I can do the things I love like gardening and aquatic exercises.

No words can describe my gratitude! She implements lots of different techniques. Very dedicated to her profession.

I highly recommend her!!
Emmy is the best.

I always leave feeling so good. Everyone who works there is nice and accommodating. I go every 2 weeks and look forward to my sessions.

They are following all the COVID19 guidelines.
I have had a membership for 3 years now and I have no complaints!

I have been seeing Emmy for the last few months and she is amazing! It is evident that she has a clear understanding of her craft and is always looking to provide the best service no matter what.

She always knows exactly what I need and takes into account the fact that I do gymnastics and caters each session to what my body needs to recover from tough workouts."
This place really lives up to its motto: "Because this hour makes the other 23 more manageable".

Special thanks to therapist Emmy for her professionalism, amazing knowledge, awesome technique, and overall quality of service. Highly recommend!
5 Stars!

She is the best; always timely, professional, attentive, and friendly.

I always recommend her to anyone considering services
"I love the Landstown Commons location of ME. I normally see Emmy and she is amazing!

She is timely, professional, friendly, and attentive to my needs. She uses a variety of techniques to ensure my concerns for each appointment are addressed.

The rest of the staff is friendly and knowledgeable too."